By Kathryn Troutman President, The Resume Place, Inc.
and Ten Steps to a Federal Job Certification Program Director
March 22, 2018
---
I got an email from Paula Galloway, who is the Schedule A Program Manager at IRS – and who recently won the 2018 Employee of the Year Award from Employment Opportunity Publications! She cares about her Schedule A Federal jobseekers!
She wrote this exciting IRS IS HIRIING email:
Got candidates??? The IRS is hiring – IT personnel as if we were having a fire sale….so if you know of any candidates seeking an IT position, in just about any IT discipline, grade levels are from 5-15 please send them my way. At the present time there are 33 vacancy announcements posted on USAJOBS.
Of course, the candidate does need to meet the Schedule A or 30% veteran regulations. However, if they are non-competitive simply send them my way, I will walk them through all of the documents to send me and if the resume is a winner, I will forward to the point of contact for consideration. If you are a Schedule A – person with a disability applicant – write to kathryn@resume-place.com for Paula's email.
All of the IT Specialist jobs at IRS and Treasury are posted here.
---
Hot Tips for IT Specialist Federal Resumes from Kathryn Troutman
IT Specialist (Security), GS 9-12, Closes 1/1/2019
50 vacancies in the following locations (WOW)
This announcement is a Direct Hire roster announcement that will be used to fill positions throughout the next 12 months. We are projecting approximately 50 vacancies may be filled during the life of this roster. Contingent upon funding and space requirements, one or more vacancies may be filled in the individual PODs listed below as they become available in that location during the life of this roster. This vacancy announcement will be used as a register to fill IT Cybersecurity vacancies with monthly cut-offs. Applicants will be referred for these different positions based on your responses to the automated questions and your experience and/or education as described in your resume and application.
---
Make SURE your resume matches the qualifications for the grade level you are targeting!
GS-09 LEVEL: You must have one year of specialized experience at a level of difficulty and responsibility equivalent to the GS-7 grade level in the Federal service. This experience must include Information Technology (IT) related experience that demonstrates each of the following four competencies: 1) Attention to Detail, 2) Customer Service, 3) Oral Communication and 4) Problem Solving. Specialized experience for this position includes knowledge of computer requirements and techniques in carrying out project assignments consisting of several related tasks, such as in the case of development of minor modifications to parts of a system based on detailed specifications provided. Experience must have been in an IT field or work where the primary concern was the subject matter of the IT application. The assignments must have shown completion of the following, or the equivalent: Analysis of the interrelationships of pertinent components of the system; planning the sequence of actions necessary to accomplish the assignment; personal responsibility for at least a segment of the overall project.
---
ALL OF THE FOLLOWING TIPS ARE NOT REALLY TIPS. THESE TIPS ARE MANDATORY INFORMATION TO GET BEST QUALIFIED!
ADD THESE KEYWORDS TO YOUR FEDERAL RESUME:
ANALYSIS OF INTERRELATIONSHIPS OF PERTINENT COMPONENTS
PLAN SEQUENCE OF ACTIONS
PROJECT TEAM MEMBER
ADD PROJECTS THAT WILL PROVE THE ABOVE SKILLS:
Write 2 to 5 project details that will demonstrate your experience.
Projects will help your resume get Best Qualified and Referred.
Write a technical description of your projects – 3 to 5 sentences.
BE SURE THAT YOUR PROJECTS DEMONSTRATE THESE COMPETENCIES:
Attention to Detail
Customer Services
Oral Communication
Problem-solving
---
Match your resume to this Questionnaire! Give yourself all the credit that you can!
IRS Resume Writing "Tips for Building an Effective Resume" PDF!
---
To learn the details of the federal application process, consult our book Federal Resume Guidebook, which includes great samples of federal resumes, including career change federal resumes. Or just START HERE for professional writing targeting a specific federal position / USAJOBS announcement. We need your current resume and a sample job announcement.
---
Does the federal application process sound daunting?
With the right information, you can succeed with a thorough and systematic approach.
Check out our book: Federal Resume Guidebook
OR
GET HELP WITH YOUR FEDERAL RESUME:
START HERE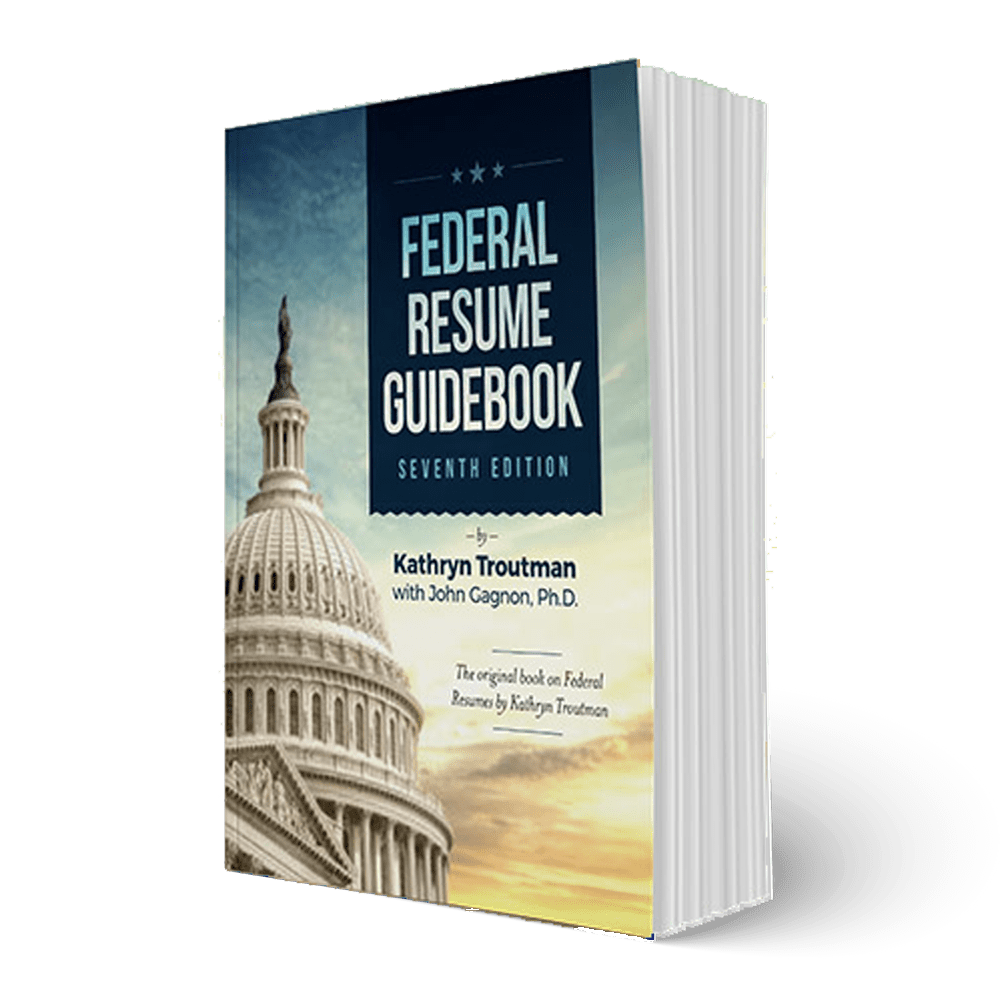 ---