Identifying Keywords in "Specialized Experience"
It's essential to tailor your application to each SPECIFIC ANNOUNCEMENT. Although certain Civil Service language is generic, every agency has its own catchwords and phrases.  Remember that jobs within the same series may have different skill sets or required experience from one agency to the next.
WRITE YOUR PROMOTION FEDERAL RESUME WITH THE RIGHT KEYWORDS: Study the "Specialized Experience" requirement carefully.  Your resume should be written with language targeting the next grade level using the specialized language and KSA duties and responsibilities.  Here are 2 examples in the Program Analyst 0343 series—one at the GS-13 level, the other at the GS-14 level:
Program Analyst (Keywords are in the above graphic – thanks to Wordle.net)
PUBLIC BUILDINGS SERVICE
Series & Grade:  GS-0343-13
To qualify, you must demonstrate one year of specialized experience at the GS-12 or equivalent in the Federal service.
Specialized experience is experience analyzing and measuring the effectiveness, efficiency and productivity of administrative or technical programs; conducting studies, analyzing findings and making recommendations on substantive programs; identifying or developing metrics to measure success of initiatives and using quantitative and qualitative data to determine if success has been met.
KEYWORDS TO FEATURE IN YOUR OUTLINE FORMAT FEDERAL RESUME (See Sample Outline Format Federal Resume)
ANALYZE AND MEASURE EFFECTIVENESS
CONDUCT STUDIES
ANALYZE FINDINGS AND MAKE RECOMMENDATIONS ON PROGRAMS
IDENTIFY AND DEVELOP METRICS TO MESURE SUCCESS OF INITIATIVES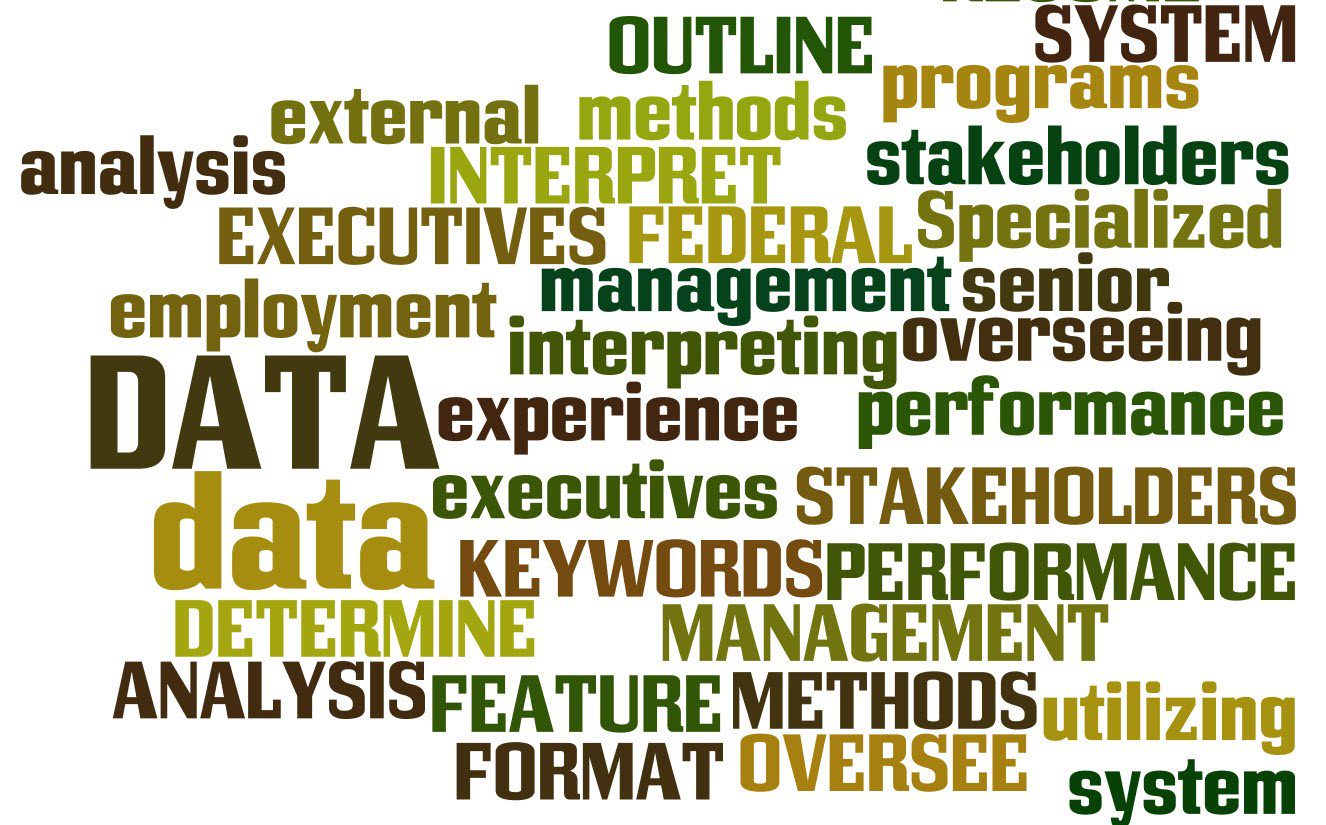 Management and Program Analyst
VETERANS EMPLOYMENT AND TRAINING SERVICES
Series & Grade:  GS-0343-14/14
Qualifications:
Applicants must have 52 weeks of specialized experience equivalent to at least the next lower grade level, GS-13, in the Federal Service.
Specialized experience is defined as experience overseeing a performance management system, utilizing methods of data analysis, interpreting data to senior executives and external stakeholders, and familiarity or experience with employment programs.
KEYWORDS TO FEATURE IN THE OUTLINE FORMAT FEDERAL RESUME:  (See Sample)
OVERSEE PERFORMANCE MANAGEMENT SYSTEM
DETERMINE METHODS OF DATA ANALYSIS
INTERPRET DATA FOR SENIOR EXECUTIVES AND STAKEHOLDERS
3.  Review the OPM Position Classification Standards and OPM Grade Evaluation Guides for the series you are applying for. These tools are a great source of additional keywords to add to your Federal Resume in addition to those stated in the Announcement.  They can also provide you with a better understanding of the knowledge and skills required in the specific series.
The OPM Classification Standard for the 0343 series states that positions in that series requires knowledge of:  "the substantive nature of agency programs and activities; agency missions, policies, and objectives; management principles and processes; and the analytical and evaluative methods and techniques for assessing program development or execution and improving organizational effectiveness and efficiency.  Some positions also require an understanding of basic budgetary and financial management principles and techniques as they relate to long range planning of programs and objectives.  The work requires skill in: application of fact-finding and investigative techniques; oral and written communications; and development of presentations and reports."  It also includes specific examples of the work typically performed by a program analyst (e.g., "analyzing and evaluating, on a quantitative or qualitative basis, the effectiveness of line program operations in meeting established goals and objectives").
OPM Grade Evaluation Guides provide criteria for evaluating positions and are also helpful in giving candidates a better appreciation of the differences between various GS levels associated with a particular series.  Common factors that distinguish among series will include:  the level of knowledge and skills; the level of independence the employee is given without reference to the supervisor; the extent to which the employee analyzes the subject and current guidelines; and the complexity of the work; the scope and effect of the work.  As expected, a GS-14 Program Analyst will have more complex work and perform at a more independent level than a GS-13.  The GS-14 is recognized as an authority in analyzing and evaluating programs and issues, and receives only administrative and policy direction.  Their work involves planning, organizing, and completing substantive analytical studies involving key agency programs, perhaps as a team leader or coordinator consolidating findings into a completed product.  The nature and scope of the issues may be undefined and require the employee to develop new ways to measure program accomplishments, results and effectiveness.  The programs will be of significant interest to the public and Congress and often cut across or strongly influence of number of agencies.  When evaluating major programs or other significant or controversial issues, the GS-14 will have contact with high-ranking officials such as agency heads, top congressional staff, or other leaders.  The Grade Evaluation Guide provides particularly helpful illustrations of nature of work performed by employees (e.g., "analyzes and formulates agency requirements for resource management information systems…").
THE RESUME PLACE, INC., writes and publishes the best books on federal resume writing today!  See the highly-popular Standardized format – the OUTLINE FORMAT with ALL CAP Keywords!
WANT TO SEE MORE SAMPLES?
Federal Resume Guidebook, 6th Edition has more sample of OUTLINE Format federal resumes with ALL CAP KEYWORDS for the Duties and Responsibilities Sections.  Available as print book and immediate download eBook, PDF.
VETERANS / MILITARY SPOUSES: The Jobseeker Guide, 7th Edition includes samples of the OUTLINE FORMAT with ALL CAP Keywords.
QUICK QUOTE (THIS IS A NEW QUICK QUOTE SYSTEM – UNDER TESTING) – Calculate the potential cost of a federal resume writing service for your federal resume. Maximize your chances to get Best Qualified, Referred, Interviewed and Hired into a Federal Job!  Our Certified Federal Resume Writers are expert at the keyword analysis, matching your resume to the announcement and featuring your Specialized Experience. We are open to feedback on our new Quick Quote page!
FORMAL QUOTE:  Get a formal quote here by filling out the Client Intake form, uploading your current resume and a sample job announcement.
By Ellen Lazarus and Kathryn Troutman